Arrange tiles by dragging and dropping them to the correct places. Kids will enjoy playing while learning about sequencing, sorting, alphabet, numbering, geometry, math — and more — in this fun and educational cognitive game.
Sample challenges:
– arrange objects from the shortest to the tallest
– arrange alphabet letters
– arrange objects from smallest to biggest
– arrange objects based on how quick they move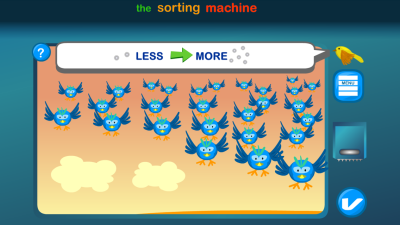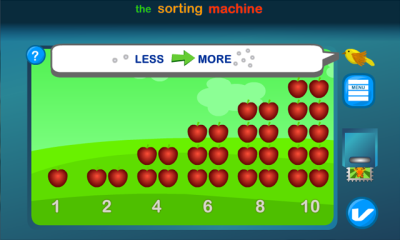 Features:
– Hint system.
– Collect cool badges.
– Colorful art design and friendly animal characters to add to the enjoyment.
– No advertisement.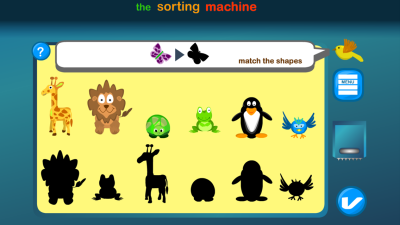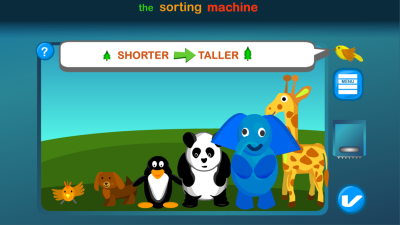 Reviews
Appolearning
"Sorting shapes, size, height, numbers and letters is fun!… After several sorting challenges, the child earns a badge and unlocks the next level. This one in particular will keep them from clamoring for Cut the Rope."
Rating: 100
Appolearning
"Your child will love the colorful graphics and the speedy game play of this simple sorting application. Kids will also enjoy collecting badges and awards as they successfully complete each level of play. If your child is in need of a straightforward sorting application, then this is the perfect selection!"
Rating: 9.5/10
Appymall
"This app allows students to practice some qualitative and quantitative concepts that can be difficult to find in other apps and provides just the right level of reward." — Joanna Clancy
Rating: 4/5
Teacher Suzy
"Children need opportunities to develop their critical thinking skills, personal capabilities and problem solving skills. This App, Sorting Machine  is a great place to start getting your child started."
Apps In Edu
Listed under "Tools for problem solving and thinking skills for kids" in EdShelf
Lesson Planet
"Great for young learners practicing comparatives and superlatives or even learning their ABC's and 123's"